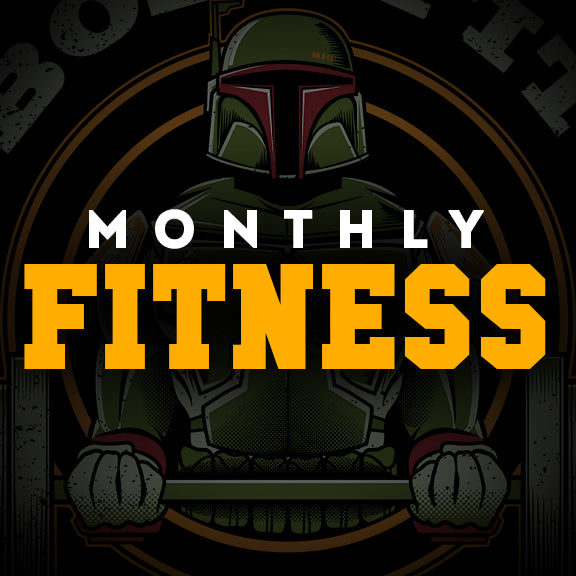 Monthly Fitness
Love Pop Culture and Fitness? Starting at $11.99 each month, you will receive an Exclusive Shirt that has never been printed. Anywhere. Ever.
Each shirt in our Monthly Fitness is designed to keep you motivated and features Pop Culture icons working out right along with you.

The Monthly Fitness closes on the 7th of each month.
We begin the printing process on the 8th for all orders from the previous month. For example, if you order on 7/7, your order will be a part of our July subscription. Orders from 7/8 through 8/7 are part of our August subscription.
The estimated shipping date for this subscription is the 16th to the 20th.
Have a question?
Check our FAQs by clicking here.
Monthly subscriptions ship approximately one week after sign ups end for the month. Looking for our monthly shipping schedule? Click here
Domestic Shipping
Starting at $3.69
International Shipping
Starting at $3.99
All products are proudly printed in the USA and may ship separately.
The art that we feature is created and owned by independent artists from all over the world. We work with our artists directly to provide high quality prints and pay them for their work. We pride ourselves in the quality of our products.
For specific product specs and sizing, check our Product Info & Sizing guide.
Nerdy fitness
The day I saw that there was a nerdy fitness shirt I had to join. I had tried some of the other fitness shirts, but the art was not as good and all their shirts only came as 1 type. I love being able to get exactly the cut and style of short I want. The art is always amazing and people always ask me where I got my gym shirts at the gym. I am pretty sure I have gotten results from the super powers heroes on the shirts as well.