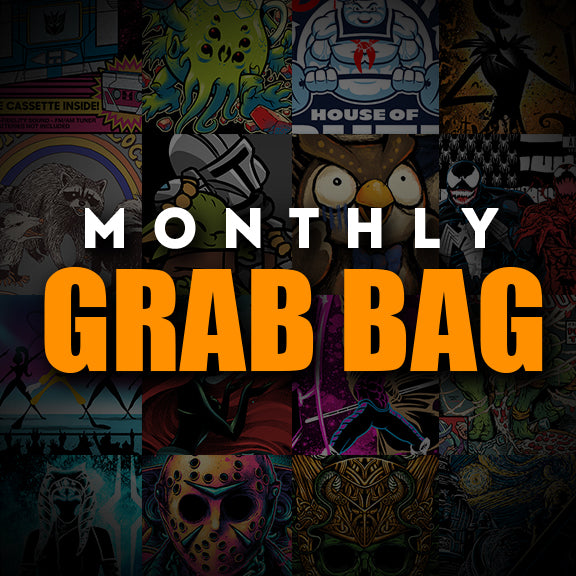 Monthly Grab Bag
The main difference between our Monthly Grab Bag and our other subscriptions is that our Grab Bag shirts have been previously featured on Once Upon a Tee. Other subscriptions feature new designs that have never been offered before. Anywhere. Ever.
Shirts are completely random. We cannot guarantee designs or fandoms, but some of us love the thrill of a Grab Bag and for $7.99 each month, you can't go wrong. We can promise that they will be totally awesome.
Remember, the more shirts you subscribe for, the more you save!
Additionally, one subscriber each month will receive TEN Random T-Shirts. That's a whole lot of awesome that we ship directly to your door each month.
Monthly subscriptions ship approximately one week after sign ups end for the month. Looking for our monthly shipping schedule? Click here
Domestic Shipping
Starting at $3.69
International Shipping
Starting at $3.99
All products are proudly printed in the USA and may ship separately.
The art that we feature is created and owned by independent artists from all over the world. We work with our artists directly to provide high quality prints and pay them for their work. We pride ourselves in the quality of our products.
For specific product specs and sizing, check our Product Info & Sizing guide.
Monthly grab bag and Monthly Legend.
I was pretty pleased with my grab bag shirt. At first I was wondering if I should keep the subscription because I also have the normal subs like monthly legend, which I highly recommend. So with a lower price point I was like the quality may not be as good, but it was a good shirt! My first arrived as zero suit samus. As for the legend I got a very cool Zelda shirt. Very cool company, honestly the best when it comes to quality I have seen.
Love It!
Purchased this as a gift for my husband. The first shirt we received was for the new Zelda game on Switch. Even though we don't have a switch, my husband still loves the Zelda games, and said it's one of the most comfortable and durable shirts he has. The design/artwork was pretty bada** too. We're both excited to see what the next one will be!
Love!
A few years ago my mother gave this subscription to my son. He has been getting it for a few years and always loves the variety and unique shirts that no one else has at school. I finally broke down and go the random grab for a year for myself as a birthday present. My first shirt arrived last week and I like mine as much as I liked his, I look forward to the future shirts!
Great Shirts
All the shirts are great and fit well(though I had to go up a size)